Disposable gowns are designed to protect the wearer from exposure to blood, bodily fluids, and other potentially infectious materials. not all PPE gowns are created equal. It is important to choose a manufacturer that has the necessary certifications and meets industry standards for quality and performance.
All kinds of PPE gowns
There are several different types of PPE gowns available on the market, each designed for specific situations and environments. Some of the most common types include:
Surgical gowns
Surgical gowns are worn by surgeons and other medical personnel to protect themselves and the patient from surgical site infections. This kind of disposable surgical gowns are made from a fluid barrier protection material and are designed to protect the skin and clothing from blood, bodily fluids, and other contaminants.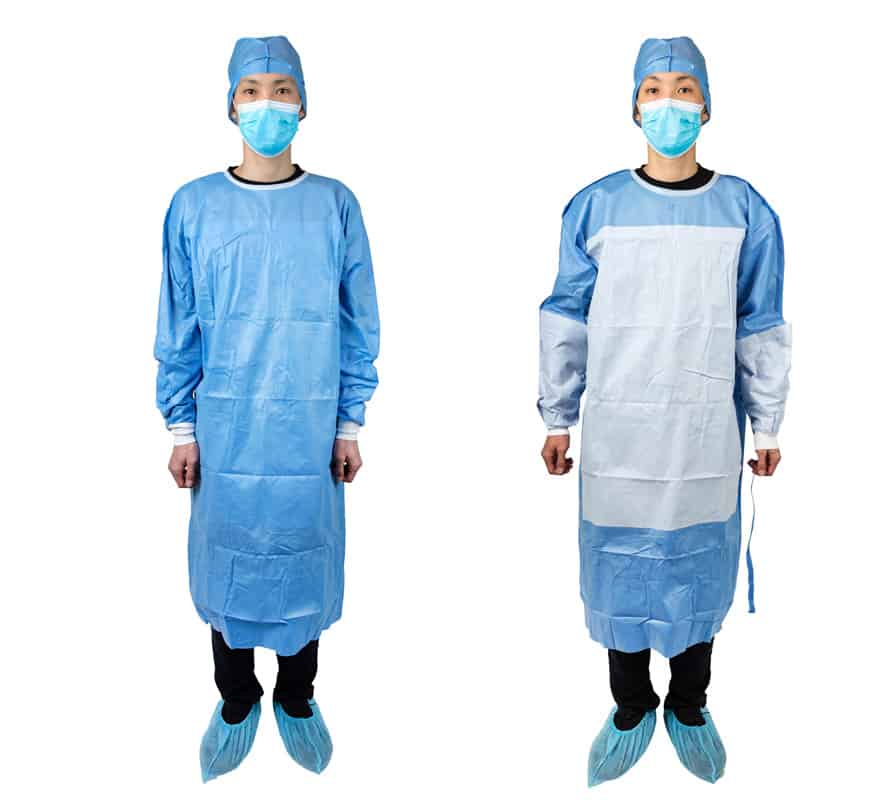 Isolation gowns
Isolation gowns are a type of gown that covers only the front of the body, typically used in situations where the risk of fluid exposure is lower. Isolation gowns are made from a water resistant material and are designed to protect the front of the body from blood, bodily fluids, and other contaminants.
CPE gown
CPE gown is a type of protective personal equipment commonly used in medical settings. It is made of a waterproof material, designed to protect healthcare workers and patients from the spread of infections and contamination. The gown is typically used in environments where fluid or infectious material may be present and is disposable after a single use. CPE gowns are commonly used in hospitals, clinics, and other healthcare facilities for procedures where a high level of protection is required.
It's important to note that the specific type of gown you choose will depend on the specific risks you will be facing and the environment you will be working in. It's always best to consult with professionals or consult with the manufacturer to ensure you are choosing the right gown for your needs.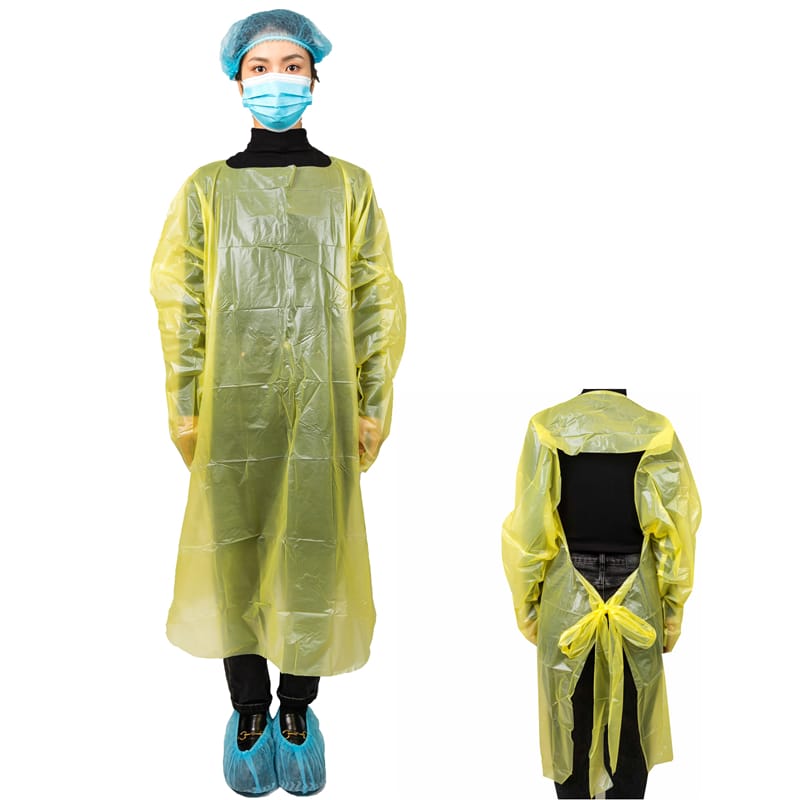 Top disposable ppe gowns manufacturer in Australia
Finding a dependable manufacturer for Personal Protective Equipment (PPE) gowns is extremely important, as the quality and performance of these disposable gowns are essential for protecting healthcare workers, first responders, and other individuals who are at a high risk of exposure to infectious agents. It is critical to do your research and find a manufacturer that meets industry standards.
EBOS health care

For over 95 years EBOS Healthcare have been supplying Public and Private Hospitals, Day Surgeries, General Practice, Aged Care Facilities and Specialist Clinics with the best products from around the world.
As a single source supply business with distribution coverage across Australia, New Zealand and the Pacific Islands, EBOS Healthcare is well positioned to service its customers for all their health and medical product requirements throughout Australas,such as all kinds of disposable aprons, and surgical gowns.
O&M Halyard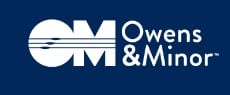 With over 35,000 products, more than 1,000 global suppliers and offices in 10 locations across Australasia, the business is well placed to meet the ever changing needs of the healthcare environment.
By operating specialised business units within Primary Care, Hospital and Aged Care with dedicated sales, marketing and customer service teams for every channel, they are able to take an entrepreneurial approach to each area of supply. This allows them to customise our service to meet the expectations of each market segment and increase the value for their customers through tailored solutions.
With extensive market coverage through our specialised business divisions, they follow and support healthcare practitioners and patients at all stages of their lives.
Defries
Established in 1980 in Melbourne, Australia by the de Fries family, the company was founded as a medical manufacturing business. By incorporating a cleanroom, office and warehouse, Defries Industries started to offer the Australian healthcare sector innovative and unique medical products.Over 3,000 product specialties and over 160 dedicated employees. Advancis Wound Care, a leading UK company product that includes the Manuka honey range of wound care, is now proudly distributed in Australia by Defries Industries. Defries produces over 6 million medical products per annum.
Bastion Pacific
Bastion is a global company with a quality product range, experienced sales and technical support teams, large stock levels, and efficient dispatch systems. Their product manufacturers have been carefully selected following extensive product independently tested and evaluated of companies that comply with relevant international standards and certifications. Bastion Pacific recognizes the importance of innovation, continually sourcing and developing new products, and investigating particular requirements to ensure progress and success in the marketplace.
Quality is assured via regular monitoring and inspections by Bastion management of all production facilities, and all testing and quality control procedures, to maintain the highest level of quality and consistency. We engage an independent agent to inspect and test each shipment following production and before dispatch. This maintains the correct acceptable quality levels, tensile strength, seam strength ,thickness and color. Effective logistics, dispatch methods and reliable transport agents all ensure products will be delivered to warehouses safely and efficiently. Bastion consistently monitors all manufacturing procurement systems and encourages socially and environmentally responsible policies and fair trade practices.
WUHAN YOUFU company
Wuhan YouFu is a specialized manufacturer and exporter of disposable nonwoven and plastic products in China. They have been in this field since 2013, their factories area is over 6000 square meters, with 100,000 class clean rooms and around 300 workers. Product quality is our promise. They offer not only products, but also sales service. The satisfaction of our customers is the main task and mission of the company and in particular of the sales department.
Conclusion
In conclusion, PPE gown manufacturers play a critical role in ensuring the safety of healthcare workers and others who may come into contact with hazardous materials. The certification of PPE gowns is an important step in ensuring their quality and reliability, but it's important for manufacturers to also maintain high standards of production and follow best practices in materials and design. PPE gowns are essential tools in preventing the spread of infectious diseases, and it is crucial that manufacturers continue to innovate and improve their products to meet the evolving needs of healthcare workers and other users.