If you are looking for a way to protect yourself from the virus, Chinese disposable coveralls may be a good option for you. These coveralls are made of high-quality materials and are designed to protect you against infection. They are also very affordable, making them a great option for those who want to stay safe during this time of crisis.
The dangers of COVID-19 and how it is spread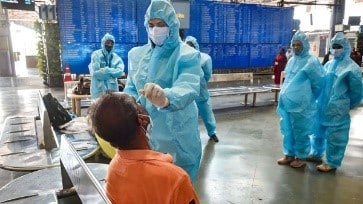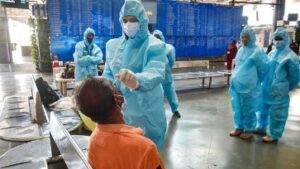 The first clinical symptoms after infection with COVID-19 are mainly respiratory and systemic, manifested as cough (mainly dry cough), fever, dry cough, malaise, headache, dyspnea, sore throat, diarrhea, and vomiting, and in a few patients, accompanied by reduced or lost sense of smell and taste as the first symptoms.
COVID-19 is a dangerous virus that can be spread through contact with infected individuals or surfaces. It can also be spread through the air, making it a serious threat to public health.
To protect yourself from COVID-19, it is important to take precautions such as wearing personal protective equipment (PPE).
The importance of personal protective equipment (PPE)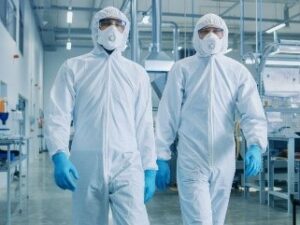 PPE is essential for protecting yourself from infectious diseases like COVID-19. It can help to keep you safe by preventing contact with the virus. PPE includes items like masks, gloves, and coveralls.
Coveralls are a type of PPE that can provide full-body coverage. They are typically made of materials like polypropylene or other synthetic fabrics.
Coveralls can help to protect you from contact with the virus by creating a barrier between your skin and contaminated surfaces.
How Chinese disposable coveralls can protect you from the virus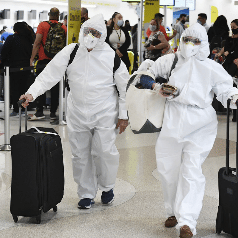 Chinese disposable coveralls are made of high-quality materials and are designed to protect you against infection. They are also very affordable, making them a great option for those who want to stay safe during this time of crisis.
Medical protective coveralls.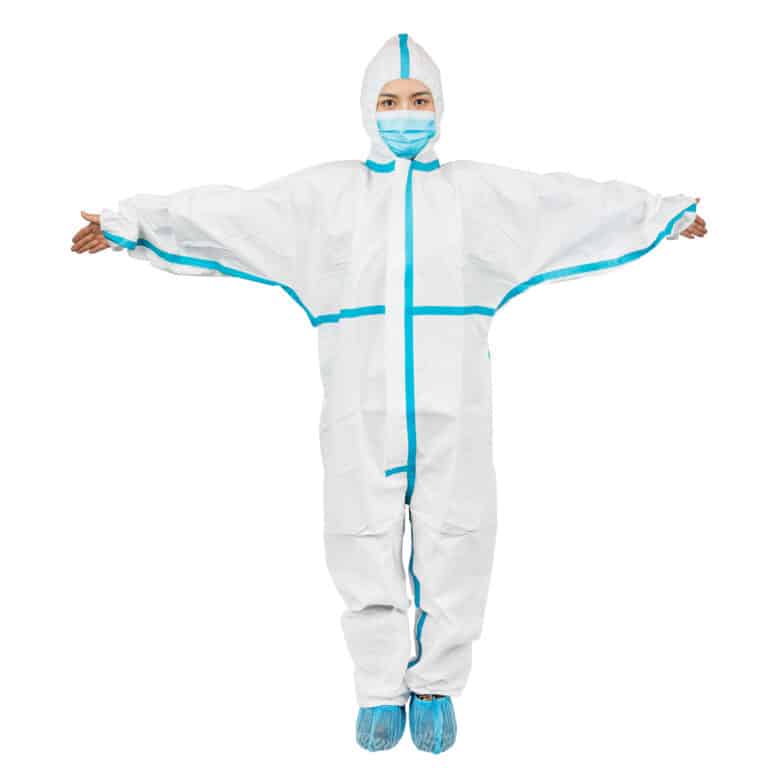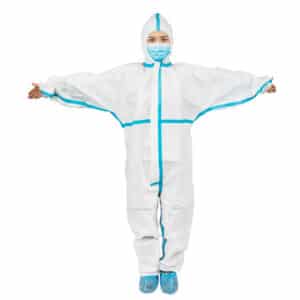 It's made of microporous material (nonwoven coated breathable microporous film).
The medical protective coveralls are an essential tool for any worker who has the potential to come into contact with bodily fluids, germs from other people's bodies, or vaporous chemicals.
The elastic hood provides comfort while you're wearing them and they provide full head-to-toe protection thanks in part to its special material construction that keeps viruses away to keep you safe.
Protective coverall with blue tape.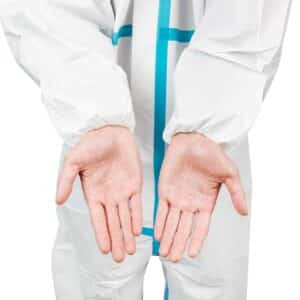 It's made of high-quality microporous fabric. These protective coveralls with blue tape protect workers from hazardous dry particulates and chemical splashes.
These coveralls provide light-chemical protection against inorganic acids, bases, or salts found during general maintenance work cleanup processes as well as lab experiments.
They are a single garment worn over personal clothing that offers full front back arm leg coverage with ease of movement for optimal safety while performing these tasks. In addition, it can effectively block the spread of viruses.
Disposable full-body suit.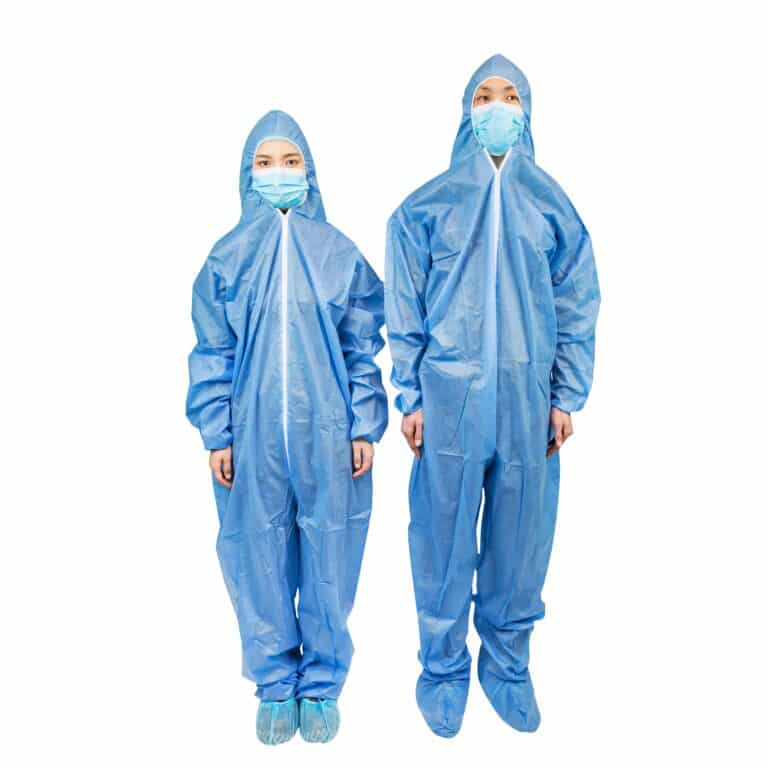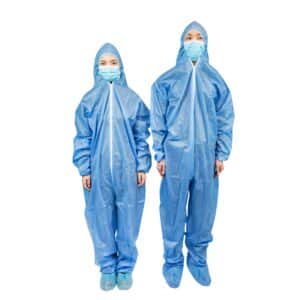 It is SMS nonwoven material with a hood and boots cover, single collar, and elastic wrist and ankle, which can protect your full body from head to toe.
It's breathable, lightweight, comfortable, and durable, and this disposable full-body suit offers reliable protection and assures comfort.
We also considered comfort, and safety features like elastic around wrists or ankles that stay put while wearing gloves as well as zippers on fronts to make getting into them easier-you can't go wrong when it comes down to protecting yourself from potential leaks during an emergency.
The advantages of Chinese disposable coveralls over other types of PPE
Chinese disposable coveralls offer several advantages over other types of PPE.
First, they are made of high-quality materials that provide superior protection against infection. They can prevent dirt and keep your clothes clean, too.
This disposable coverall can be antibacterial and anti-toxic, moisture-absorbing and waterproof, moisture-permeable and breathable, and anti-blood infiltration, and the combination of clothing integrity and fabric functional type.
Second, they are very affordable, making them an economical option for those who want to stay safe during this time of crisis.
Third, they are easy to use, making them a convenient choice for those who want to stay safe during this time of crisis.
Fourth, they provide complete coverage, ensuring that you are fully protected against the virus. Finally, they are available in a variety of sizes, making them a great choice for those who need extra protection against COVID-19.
How to use Chinese disposable coveralls properly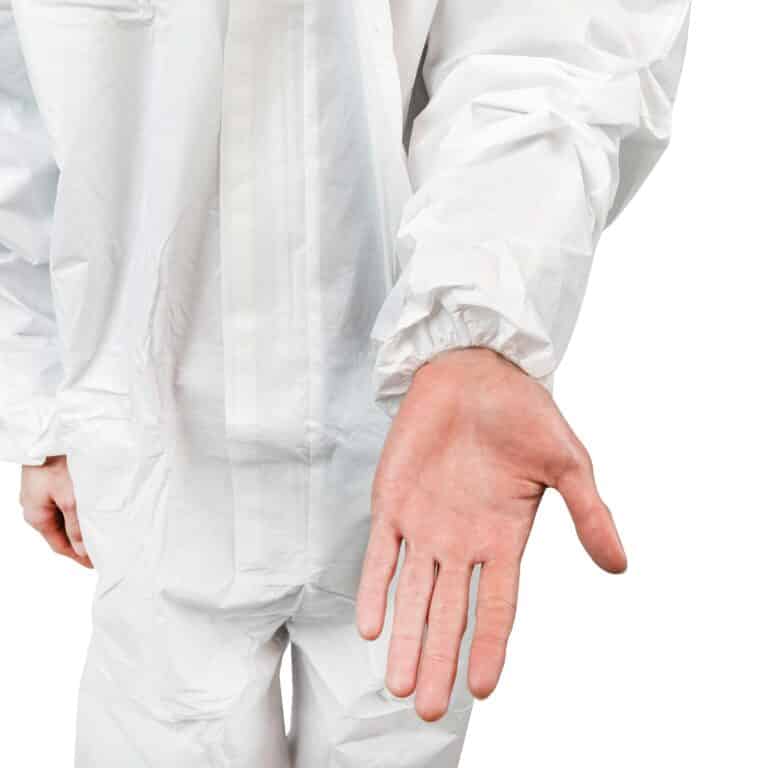 First, when wearing protective equipment, first of all, hand hygiene, then wear medical protective masks, hats, and gloves, and test the airtightness of the masks and gloves to confirm good air tightness.
Secondly, the protective clothing should choose a size that suits you. Protective clothing that is too big or too small will cause inconvenience in the work process or accidental scratching or tearing, and also carefully check whether the protective clothing is broken.
Furthermore, do not carry sharp objects such as keys with you to avoid damage to the protective clothing at work; after putting on the protective clothing, you must ensure that the zipper is pulled well, the cap is fastened well, and the mask is brought well to ensure that the overall seal is good.
About us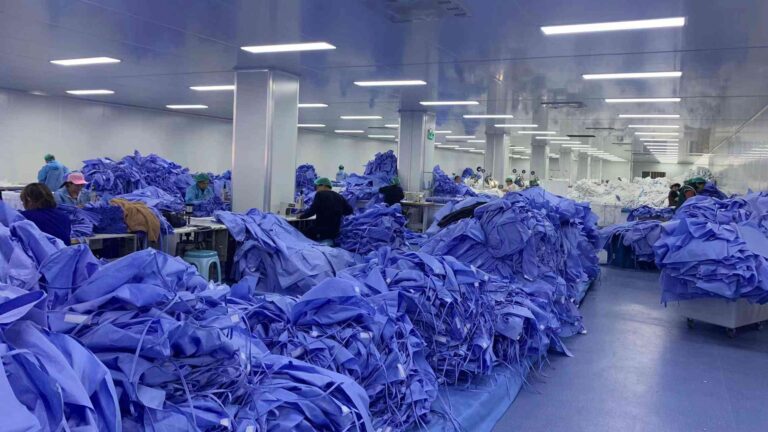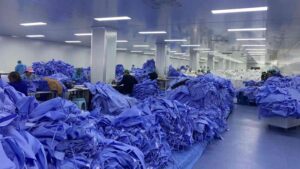 We are a direct manufacturer of disposable PPE products for wholesalers, and we have been in this field for more than 15 years.
We supply wholesale disposable coveralls with ISO, FDA, and CE approved which have high quality and competitive prices.
If you're looking for a high-quality and moderate-price disposable coverall, please check out our website or contact us. If needed, free samples are available. Thanks for your reading!